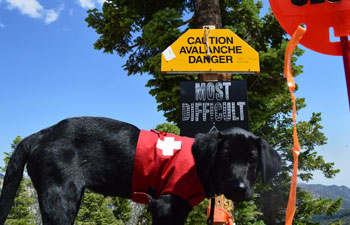 Bristlecone Avalanche Rescue K9's (B.A.R.K.) is a nonprofit 501c (3) organization established in 2015 to provide rescue dogs in avalanche situations for the Mount Charleston area.
B.A.R.K. was founded by ski patrollers from the Lee Canyon Ski Patrol. Our goal is to have dogs based at the Lee Canyon Ski Area, which any of our trained ski patroller handlers can take to an avalanche scene and work effectively. Many ski areas in the U.S. have similar programs.
Speed is crucial in avalanche rescues, with minimal chances of survival if victims are buried for 30 minutes or more. A trained avalanche dog can search an area the size of a football field in five or ten minutes.
It would take a probe line of 50 people using poles a couple of hours to search the same area. When 30 minutes can mean the difference between life and death to a skier lost on a snowy mountain, most people would bank on the dog.